MEN'S HAIR LOSS & HAIR RESTORATION SOLUTIONS
Profiles by Kristin – Syracuse, New York
Totally Natural Hair Restoration Solutions for Men with Thinning Hair & Hair Loss
Are you tired of thinking about your hair? You want to stop wondering "Can I get it wet?" "What about bright lights?" "Did she notice?" You're ready for confidence, ease, and smiles when others see you. You want to forget about your head, and enjoy your life!
Our stylists are specially qualified to evaluate you and handle the best hair replacement available. With many years of experience in this field, Profiles By Kristin has chosen Natural Advantage as the best Hair Replacement option available for men.
NATURAL ADVANTAGE is 100% Human hair — it looks, styles, and acts like your own hair. This is great news for those of you with active lifestyles! No need to worry any longer! You can work out, swim, run, bicycle, and participate in sports of any kind, even those that involve wearing helmets. Your hair replacement system will look absolutely natural so you can look and feel 100% confident enjoying your active lifestyle.
Our experienced technicians will personalize to the color, texture, density, and hairline you want. Wear it long or spike-cut, brush it back, and treat it as if it's your own hair! Natural Advantage is virtually undetectable!
Technology has finally caught up with your fantasies. A proprietary technique places real hair a strand at a time to harmonize perfectly with your own hair. It duplicates how your own hair grows, and matches it perfectly.
NATURAL ADVANTAGE doesn't discriminate: it works for nearly anyone, with any degree or type of hair loss. The hairline is so natural; even you'll think it's yours! Now there are experts you can trust. Our stylists are specially trained and qualified to evaluate you and give you the best hair loss solution available!
I am a man losing my hair, can you help me? What are my options and can you make me look like I used to?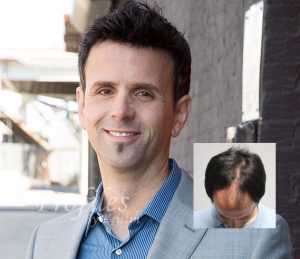 A: Yes, at Profiles we specialize in all types of men's hair restoration and our skilled staff can determine which method would be the most beneficial to for you. Not only does the staff at Profiles understand how hair loss can affect your life but we also know that it can affect your self-esteem and self-image. We have solutions for all hair loss conditions whether you are in the early or advanced stages of thinning hair.
Profiles offer many solutions depending on what degree of hair loss you are experiencing. If you are in the beginning stages, we might recommend laser hair therapy solutions or in-salon treatments in conjunction with products for at-home care. We also have a strand-by-strand extension method for those in the beginning stages of hair loss which is virtually undetectable.
If your hair loss is more advanced, we have the most natural-looking undetectable hair additions on the market. These are designed specifically for you. Our experienced staff has the ability to recreate your hairline and enhance your appearance. The end result will restore your confidence in the way you look and feel and no one will ever know! Profiles would like to help you rebuild your confidence by recreating the look you thought you would never get back.