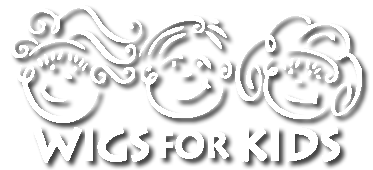 Our Mission: Helping Children Look and Be Themselves & Live Their Lives
"Helping Children Look Themselves and Live Their Lives!"
Wigs for Kids is a non-profit organization that has been working with children and their families for over 30 years. This is a program that offers Hair Additions to children that suffer from Medically Related Hair Loss at no cost to children or their families. This includes children undergoing Chemotherapy or Radiation, Children with Alopecia or Trichotillomania, Accident and Burn Victims and any other type of Medically Related Hair Loss.
Profiles By Kristin is an Affiliate and Ambassador of the Wigs for Kids program. As an Affiliate of the program, this means that Profiles By Kristin volunteers their time in helping children that are a part of the Wigs for Kids Program. This includes helping the children and their families fill out applications, take measurements for the system, make color selections, ordering the hair system, cutting the system and going over maintenance techniques with the families. As an Ambassador of the program we harvest ponytails, raise money, and spread the word about the Wigs for Kids Program.
"The effects of hair loss go deeper than just a change in a child's outward appearance. Hair loss can erode a child's self-confidence and limit them from experiencing life the way children should. With an injured self-image, a child's attitude toward treatment and their physical response to it can be negatively affected also. Wigs for Kids helps children suffering from hair loss look themselves and live their lives."
-Jeffery Paul, Founder of the Wigs for Kids Program.
The value of each Hair Replacement is $1,800. "These are custom-made Hair Replacements," says Jeffrey Paul. "Each prosthesis is hand-tied and is made completely from human hair. We make sure they look just like a child's own hair."